The final run of Gold Key comics were fantastic. They rehash and/or expand on classic Star Trek characters and episodes. Lots of fun, beautiful artwork by Al McWilliams and great writing by George Kashdan. This batch also has great ads in them, such as Star Wars movie paraphernalia ones and disco album advertisements. Picking five top ones was tough, there are many good comics here. One with a ghost and cyborg in it, a few undercover operation episodes (which I love) and an Andorian murder mystery.
I also read the script for the never made issue
#62 Trial By Fire
. Kirk and Bones are trapped on a planet about to be obliterated by a fireball. Has an appearance by the USS Exeter post Omega Glory. Check it out, it's at least interesting to see what a comic book script looks like. Way crappier than I expected.
http://www.startrekcomics.info/images/goldkey/st62script.pdf
I decided to read the
Whitman Dynabrite Comic
(reprint of The Evictors/The Choice) and the
Dan Curtis Mini-comic Giveaway
(reprint of Enterprise Mutiny/Dark Traveler).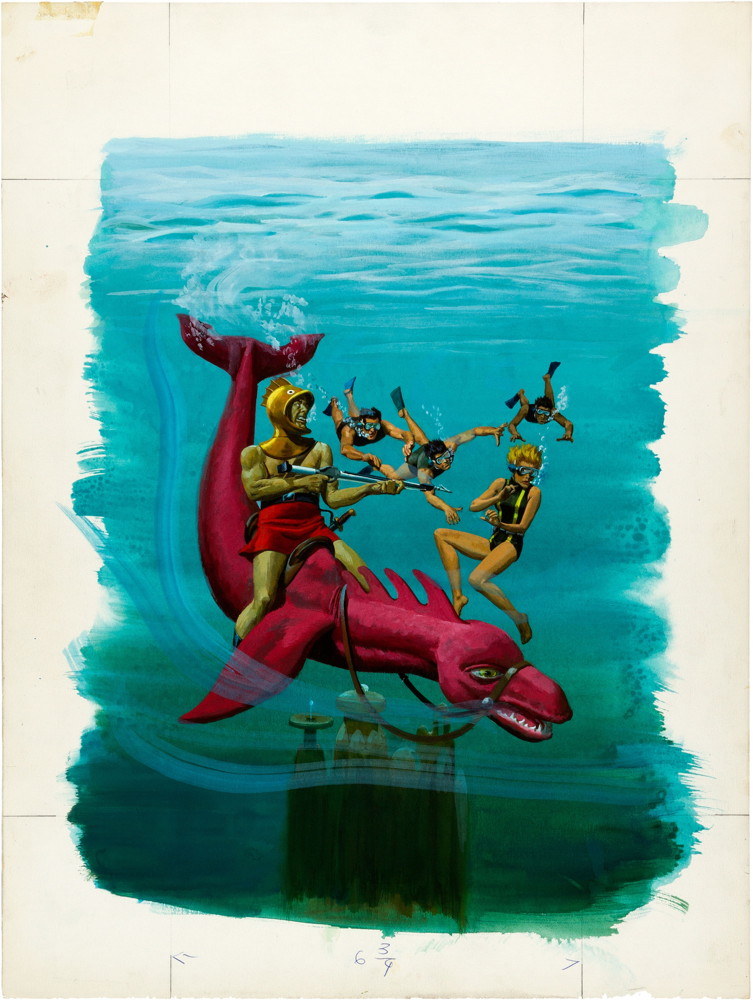 The best of this bunch:
#43 1977 "World beneath the waves"
The crew visit a planet where the inhabitants live underwater. This environment is not used much in Star Trek, so it was interesting to see. These people had to adapt to the water after their land was devastated by radiation. Kirk discovers that there are indeed land people, but a cover up seems to be afoot. Barbara McCoy is in this comic and she is a great character. I love how she seems to really hate her father.
#49 1977 "A warp in space"
Bringing back our old friends Zefram Cochrane and the Companion from the episode Metamorphosis. Kirk needs assistance from the famed scientist in order to figure out the disappearance of several experimental starships. They are all attempting to push the limits of warp. The Companion, however, seems hell bent on sabotaging things.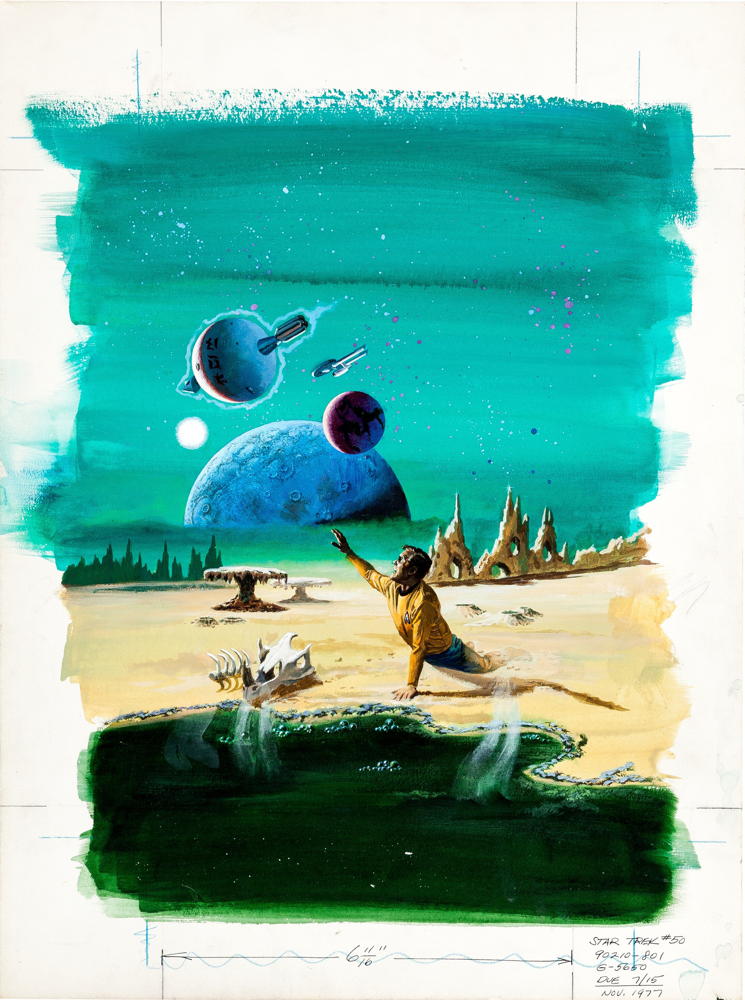 #50 Jan 1978 "The planet of no life"
Kirk and a rich snobby ensign are trapped on a planets surface. Unfortunately for Kirk, his recent nemesis The Evictors are back to torture him. The young ensign quickly turns on Kirk in order to save his own head.
#56 Oct 1978 "No time like the past"
A crazy ex-dictator escapes into the Guardian of Forever and changes history. Kirk, Spock and Bones go back in time in order to set things right. They must make sure the encounter between Hannibal and the Romans goes the way history planned.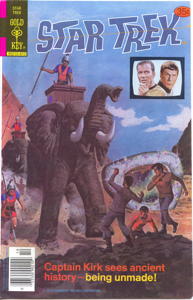 #61 Mar 1979 "Operation con game"
Kirk loses out to the Klingon's on an important bid for a planets dilithium. They discover that this dilithium seems to be fake, and a surprising old foe is behind the ruse. Lets just say, things get a little muddy...
These Gold Key comics are a diamond in the rough. People talk shit about them, but I feel they never really read them. They get increasingly better and better as the run goes on. I enjoyed the art and writing, as well as the heavy use of Scotty.
On a scale of 1-5 Saurian Brandy's. I give Star Trek Gold Key series a
4